In Gables Estates, every member's safety and security is our primary goal. Knowing that we are one of the premier neighborhoods in America, our security program is specifically designed to offer the highest level of protection for you, your family, and also your home, property, pets, yachts and watercraft. Our response time is almost immediate, as we have officers usually only a street away, if not right next to your home.
G4S Armed Security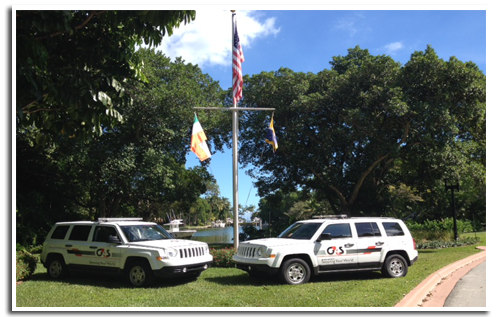 Our primary level of Security is our 24-hour a day armed guards provided by G4S at both entrances and exits to the community, who stop every vehicle and person entering our neighborhood, and monitor every vehicle exiting. In addition we have 24-hour patrol cars doing constant surveillance on each street in the neighborhood.
Since most members also have a substantial investment at their dock, we also have boat patrols, to guard member's yachts and watercraft, and also watch over our backyards.
Topping this off, we have numerous cameras throughout the neighborhood, watching our entrances, exits, streets and waterways, that are monitored 24/7 by G4S officers. These include FLIR night vision cameras and beam detectors so nobody enters our neighborhood, or waterways, undetected, day or night. These cameras also record, and recordings are kept, and can be used in any investigations.
Finally we are very proud of the fact that many G4S officers have been with us here at Gables Estates for over a decade, some as long as 23 years. You will be pleasantly surprised how quickly all of our officers recognize you and your family members and address you by name.
Coral Gables Police Department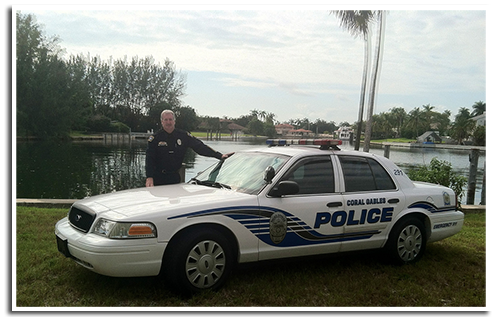 Gables Estates is located in the City of Coral Gables, which has an excellent Police Department. Coral Gables Police patrol our neighborhood as standard protocol. Above and beyond this, we employ Coral Gables Police in their marked cars in an off-duty program, designed to increase our police presence beyond what the City of Coral Gables offers. This program has proven to protect members and their homes at a much higher level than that of other adjacent neighborhoods.
Additional Included Security Services
Alarm Response
Fire alarms should be sent directly to the fire department. But beyond that, have your alarm company make our guard gate the first number on their intruder alarm call list, and our guards will respond to you home immediately.
Safety Check
Our G4S officers will come to your home, not just for emergencies, but also for any security reason. If you ever return home and a door or window is ajar, call our guard gate and an officer will meet you and will check out your home and property before you enter, making sure everything is safe and secure.
Away Service
As part of our standard Security service, when any member lets the G4S security know when they are away or out of town, we will put you home on an additional watch list, doing a physical check of your property multiple times a day.